Blood out of stone
audiovisual performance at Inota festival, 2023

The narrative of the piece delves into the timeless saying 'blood out of stone,' exploring how we respond to resistance and our capacity to overcome and create progress. In this performance, a self-designed interactive musical instrument takes center stage, its inspiration drawn from the world of stones. Through captivating visuals combined with electroacoustical music, the audience is transported into a realm where stone serves as a symbol of perseverance.

Credits
Concept, music: Mári Mákó
Double bassist: Julian Sarmiento
Visual artist: Tarr Kálmán


Monolith


residency at instrument inventors collective -

iii

Den Haag, 2022

Mári Mákó and Sofie Kramer developed Monolith: a new pole-dancing instrument and performance together, exploring technical innovation and sensory experience through the means of sound and movement.
"We see that the mediator, the pole, is encapsulating the modern material world, which we transform with the help of sensory design. By turning the pole into a "living" entity with sounds, we can break down and develop another sense of ritual, connected to performance practice. The process of discovery is then a question of accepting to share control of a process with entities that are different from ourselves, and of being sensitive to the unexpected."

Credits:
Concept: Sofie Kramer & Mári Mákó
Composition and instrument development: Mári Mákó
Choreography and dance: Sofie Kramer
Made with support of: Instrument Inventors Initiative

video link

27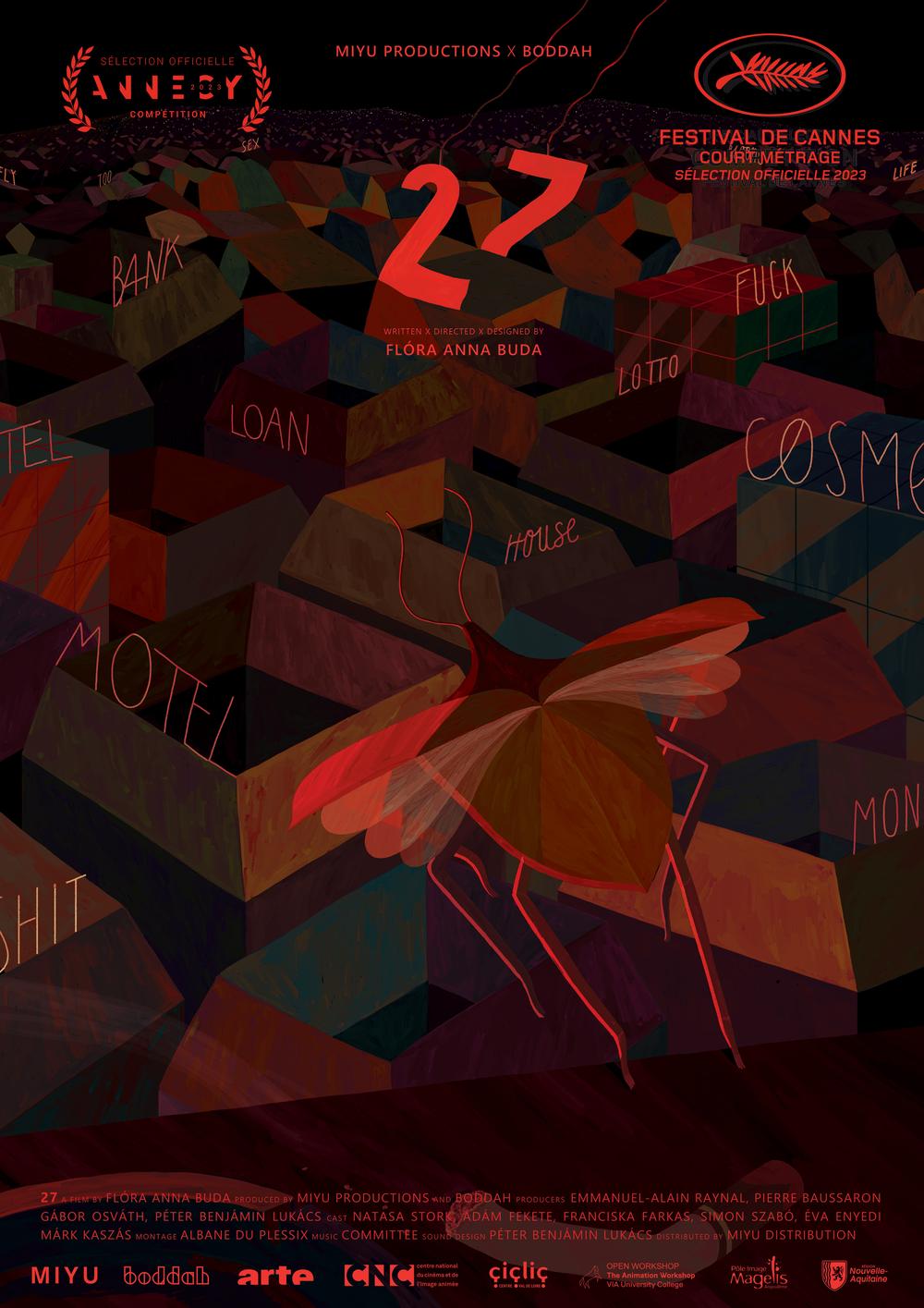 animated short 10'38"
premiered at Festival de Cannes
Winner of the Palme d'or for short film
miyu productions x boddah
Director:

Flóra Anna Buda


Composers: COMMITTEE duo of Mári Mákó, Rozi Mákó

2023 Annecy International Animated Film Festival
Winner Best Original Music Award - Best Original Music for a Short Film

Synopsis
Alice is 27 years old today. Even though she is suffocating a bit, she still lives with her parents and tends to live in her dreams to escape her dreary everyday life. After a psychedelic party on a factory roof, she has a serious drunken bike accident. Will this give her the courage to become an adult?



trailer




Oudemian






album release show, Rotterdam, May, 2022

"This exciting debut is rather avant-garde electronic and post-club than neoclassical and makes you hungry for more controlled and confusing complexity."
Groove magazine

The EP of Mári Mákó, Oudemian, fuses introspective instrumental and vocal textures with live electronics. It is a sonic journey of finding inner strength through crisis, of overcoming existential angst and rebirth.
The title was invented as a combination of two-words: "Ouroboros" and "Demian." Ouroboros is an ancient symbol of a snake biting its own tail representing the circle of life, and Hesse's novel Demian depicts a young boy struggling to find his new self-knowledge and his place in an immoral world. As it happens, Oudemian also holds an actual meaning in ancient Greek: "none."
This album of experimental electronic music contrasts dark synthesizer drones, glitch, and beats with organic orchestrations of acoustic instruments and the emotive power of the human voice. It features Mako's self-designed and programmed electronic instrument called the Schmitt, which works with chaotic sound processes influenced by accelerometer and light sensors. Its constantly changing timbre channels life's uncertainty as it cuts through and fragments the flow and equilibrium of -string arrangements and distant voices singing mantras. As the album progresses, these elements converge over deep empowering beats that carry through a message of purpose.

Credits
Concept, compostion, music production: Mári Mákó
Album cover: Oddkin
Saxophone on 'Waves' by Laura Agnusdei
Double bass on 'Bell', 'Shedding' and 'Homecoming' by Julian Sarmiento
Violin on 'Bell', 'Oudemian' and 'Homecming' by Matthea de Muynck
Vocals on 'Homecoming' by Sarah Albu
Trumpet on 'Shedding' by Miklós Mákó

The album is supported by Fondspodium Kunsten and won the Sena Music Production Fund.







Schmitt



solo-performance, 2021
New Interfaces for Musical Expression Conference, NIME, Birmingham, UK
intrumentation: light dependent oscillator with accelometer sensor for quadrophonic sound system
duration: 15'00

The instrument, Schmitt meant to challenge and explore therelationships between motion, gesture and music in a multi-channel speakersetup. The piece is also questioning a certain issue behind usingself-made instruments or controllers compared to the use of traditionalinstruments. It is strongly connected to a reference point (expectation) of howthe players gestures on the instrument are coordinated with the soundingoutcome.




Pluto Pluto



Gaedamus Festival, 2022
Commission for an ensemble composition

Spaceship Ensemble, had a residency at Gaudeamus in 2022, and tried out its new musical spectacle The Carnival of Futuristic Animals on 29 June in Muziekhuis Utrecht. A performance inspired by A Treatise On Evolution by one of the Netherlands' most iconic scientists, the theoretical physicist Gerard 't Hooft, who created a series of drawings showing how animals might evolve in the distant future. In a musical programme reminiscent of Camille Saint-Sans' Le Carnaval des Animaux, the ensemble plays a series of short pieces, each depicting one of 't Hooft's creatures.

Mári Mákó was commissioned to create a unique composition, adding her artistic touch. Mákó presented a new project—a kinetic sculpture that serves as a conductor for an ensemble.




Rothko and me in the time of quarantine



commission of Stedelijk Museum Schiedam
2020

The performance with Rothko's painting had to be cancelled due to the lockdown.
However a fixed media piece was created inspired by this project.
'Since the live performance couldn't happen, I had to rethink the whole concept because the essential part was to perform in the same room, with Rothko's painting. To recreate that atmosphere elsewhere is just simply impossible and I didn't even want to attempt it. I see this piece as a reflection on acknowledging uncertainty, of being aware of delays, and isolation; but being hopeful and knowing that it's a transformation through which we can come out stronger together.'

interview:


https://worm.org/2021/01/21/interview-composing-rothko-in-lockdown-mari-mako/






Sfessania


Interdiscliplinary performance collective, Alba Nova Festival (BE), 2021

Coming from different backgrounds and expertise, such as sonology and early music, Sfessania search for ways to re-invent stories from the past and connect them to contemporary culture. Sfessania is their first project.
Is a performance that arose from the need to investigate the relation of performers and audiences with repertoirse and materials from the past. Inspired by the Bali de Sfessania, a series of paintings by Jacques Callot, this performance follows the threads of meaning these paintings convey. Using a commedia dell'arte structure and colliding early music with live electronics, dance and improvisation, Sfessania seeks to revive some of the magical powers that were attributed to music and dance in the 17th century.

Credits:
Matthea de Muynck (violin), Julian Sarmiento (double bass),
Anna Lachegyi (viola de gamba)
Christina Karagianni (dance)
Electronics: Mári Mákó
premiere: Delft Fringe Festival 2019 and was repeated at the


Flow_wolF
for
Maze Ensemble
premiere: Maze Festival, Splendor, Amsterdam 2018
duration: 13'05
In a world that becomes more and more like a game environment, MAZE FESTIVAL explores interactive scores as a way of questioning and redesigning the relationship between musicians, composers and audience, using game strategies and interactive electronics.
Synergatic Interpolations

artist residency at Cloud Danslab, Den Haag, 2018
collaboration with Fazle Shairmahomed

In this residency the artists explore together the relations between sound and movement as immersive of each other. The sound installation consists out of one sensor and two oscillators, which allow an immersive physicality to develop. Initially by using the hands to create shadows, manipulate light, and to change the position of the sensor, transforming the soundscape constantly. In performance, physicality is most often facilitated by sound, and therefore sensorially more prominent, which we aim to challenge by enhancing this relation through technological devices and light. This research questions the input-output relation of sound and movement, and different technological devices. How can the relation between sound and movement become diffuse and immersive of each other?